Shaking Up a Serious Game
Golf is serious. We get that. But if you're taking stress and tension to the course because you think you have to play perfectly to be a good person, you're doing it wrong. Instead, remind yourself that golf, in the end, is a game and should be enjoyed—not simply endured. Go on and show your personality or appreciate the humor of the whole thing! We've got the definitive list of funky equipment and quirky but entertaining golf clothing, and you might just find something useful that you can add to your own golf bag (or outfit) that will make you smile or show off your awesome personality.
What Does Traditional Golf Equipment Look Like?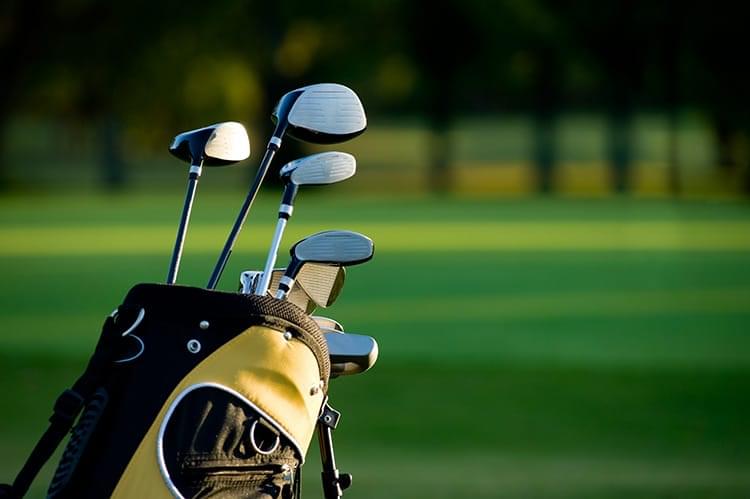 The most basic set of equipment includes a bag, a driver, an iron, a putter, some balls, some tees, and some club covers. You'll do well to have some gloves, good shoes, sunglasses, and a hat, as well. Over time, avid golfers add more clubs to their bag and develop a taste for certain gadgets or gizmos that may (or may not) improve their game. This is where you can truly express yourself as an individual. Let this be a rough guide to how you, too, can express yourself on the golf course.
Strange Golf Clothing
Hats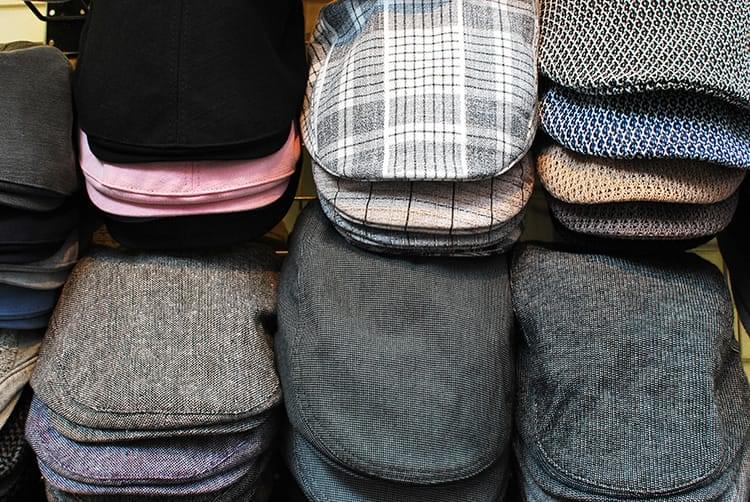 In the old days, it was perfectly acceptable to don a tweed newsboy cap or set a tartan beret at a jaunty angle without any embarrassment at all. And, okay, you can still get away with it if you have the charisma to pull it off and the rest of your outfit is 100% on point—or if you make at least one joke about ironic clothing. But hey, isn't it kind of fun to shake things up a bit or elicit a laugh from your work-stressed golfing buddies by making your hat an amusing focal point?
Novelty hats—like the hole-in-one green astroturf beret with a flag-bearing pin and golf ball attached—are one way to go here. Don't forget the flair hat that includes fake hair for the balding man. You can find all kinds of novelty hats with printed messages that range from dad-joke-groan to downright-inappropriate-for-children. Just be ready to take some good-natured ribbing about even having spent money on such a clothing item.
With most things, the intersection between questionable and acceptable is often found at functionality. Umbrella hats fit this description. Extremely practical for rainy rounds, they are often manufactured in annoyingly bright rainbow colors, probably as an antidote to gloomy overcast days. For sunny, hot days, why not choose a cap with a built-in fan? In one style, a solar panel at the crown provides continual power to the fan so that you never get overheated, even when you've taken one too many three-putts.
Heads up, y'all! The next gen of golf trucker hats are showing up on courses all over the country. Want a trendy lid with the comfort of a mesh cap and a designer front? That's a big 10-4, buddy.
Shirts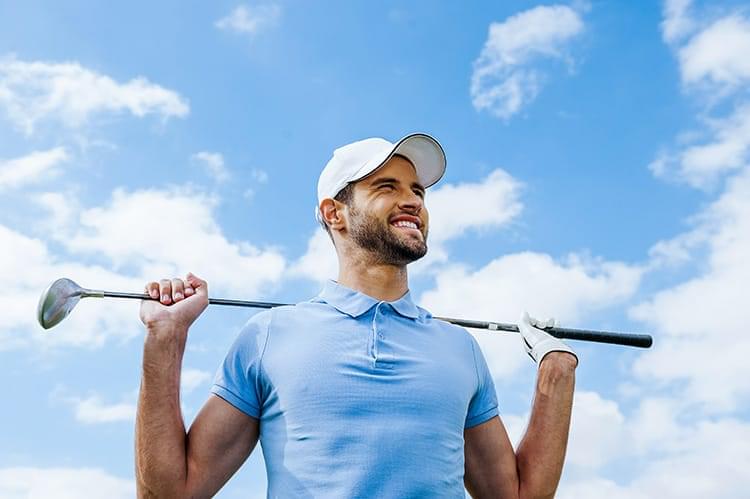 Not everyone is a fan of the quietly-colored polo. Woody Austin, for instance, has never met a bright tropical landscape shirt he didn't like. What's considered strange in golf shirt offerings may just be a matter of personal taste, but it's fairly simple to state that the crazier the color or pattern, the more attention you'll draw. If you're going for the vavoom factor, stores like Bunker Mentality could become your new favorite place to shop.
The snazzy functionality aspect shows up in products like the Golf Swing Shirt, an innovative invention that teaches you how to swing with a sense of connection while also allowing you to layer your clothing. Sure, you're gonna look a little unusual with that loose flap of cloth on your chest swinging freely in the breeze between holes, but if it really helps your game, who cares what jokes your buddies come up with? The sure bet is they'll be asking to borrow your shirt.
Slacks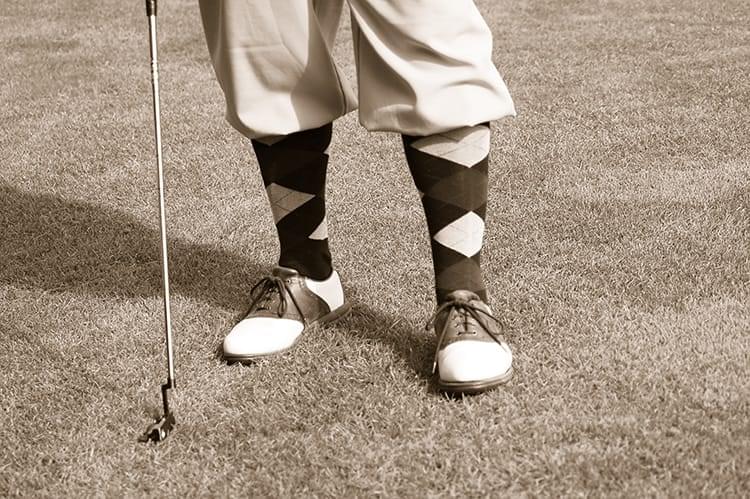 Those baggy knee-high golf pants of yesteryear may have seen their heyday (more's the pity!), but that doesn't mean you're out of luck. Those who admire John Daly's eye-crossing trouser choices can still show off their quirky sense of style when browsing through Bedlam Golf's psychedelically colored golf pants and shorts. Even Ralph Loren has seen the writing on the wall and is putting out a series of bold floral golf shorts in their RLX line that will have older golfers muttering about the eccentric fashion choices of the younger generation. Paired with a solid polo, your Daly-esque outfits could land you on your club's Best Dressed List.
Shoes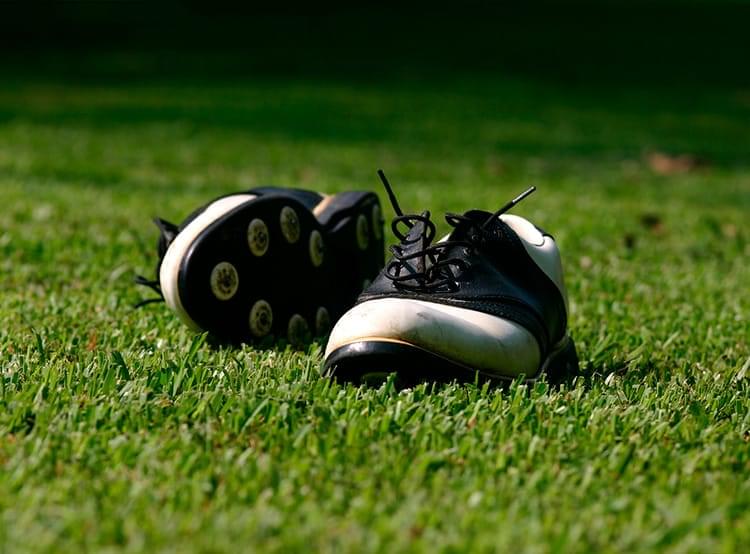 Dress-type shoes are still fine, but they're certainly not strange or outlandish. FootJoy, Nike, and Adidas pretty much have the golf shoe market cornered, with the trend veering toward lighter, more flexible, and very breathable. But if you're going for non-traditional, Biion's got something for you. Their saddles and wingtips are not only built specifically for playing golf without socks, if that's your bliss, but you can choose anything from grown-up conservative to wildly funky colors and patterns. Or follow Ricky Fowler's lead and copy his daring Puma golf high-tops choice at last year's Hyundai Tournament of Champions in Hawaii—if you can get Puma to design you a pair, of course. Oh wait. They already did.
If you're into barefoot golfing or near-barefoot golfing, Vibram's got your shoe: the V-Classic LR. While they are called "five fingered," it actually means that each toe has its own little sock so that toes can move independently, and because the soles are thin and very flexible, you don't feel like you're wearing much on your feet. Strange looking? Yes. Do they let you feel the course like you've never felt it before? Absolutely (read a review of golfing in Vibram's KSOTrek Shoes here). While they haven't taken off like gangbusters, the curious can currently get a 50% discount on what may end up being your favorite pair of golf shoes ever.
Some of the most unique golf shoes in history were designed by Mansfield & Sons Ltd. around the turn of the 20th century: the Golf MT. 856. Sure, you were playing in heels, but that just allowed golfers to show off their elegant calves. Available in brown or black.
Spice Up Your Golf Clubs and Golf Equipment
Drivers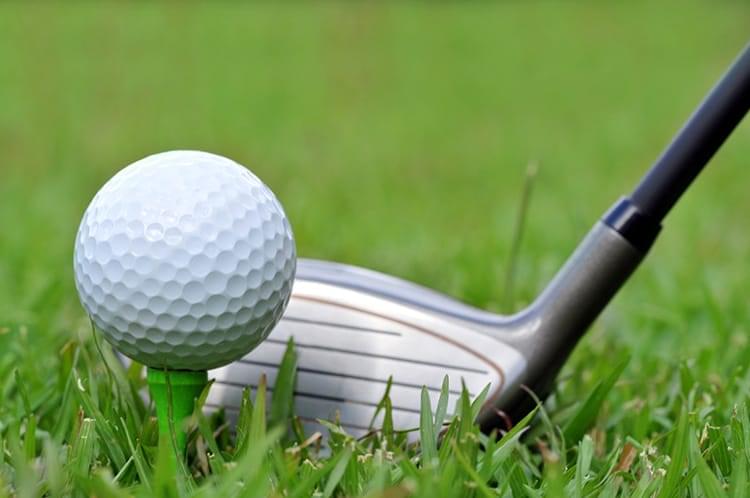 Some of you may remember Jim Flood's original Power Pod drivers from the 1980s. With a face barely larger than the golf ball it was supposed to hit, it made a distinct noise on impact—but the reaction from golfers was still pretty encouraging. You couldn't slice with the original Power Pod because of the balance, and the company sold nearly two million before folding. The problem was that the face of the Power Pod was made of fragile polyurethane, which would eventually crack or shatter. While it had some avid fans, the Power Pod just wasn't endurable enough to justify the expense.
Fast-forward to the 2000s and the rise of the Power Pod II. Darin Dingman, owner of Tiger Shark and big fan of the original Power Pod, urged Flood to design a new Power Pod. Flood complied, and now golfers can enjoy the no-slice performance of the new and improved, titanium-shafted driver. The Power Pod II has a large, deep face, with 99% of the weight placed directly behind the impact zone. Head design also raises the center of gravity and reduces ball spin for straighter, longer drives. And yes, the look of it is still a conversation starter.
When talking about odd-looking drivers, you can't neglect to mention The Hammer.
Irons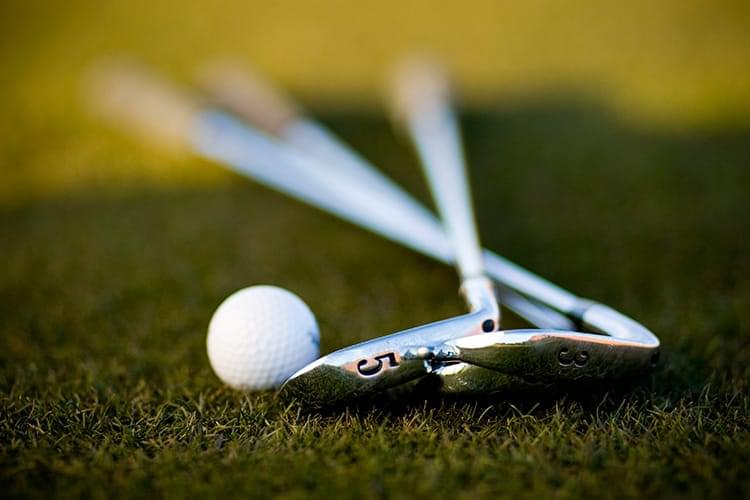 Not all innovations in club design are welcomed with open arms. Consider the L'il David Slingers, another invention of Jim Flood's (the Power Pod inventor mentioned above). Released in the 1970s, the singular look of these irons (upside-down heads! Rounded heel and toe!) spawned many a guffaw. Detractors aside, those who played with them found it nearly impossible to shank. Got a set? There's definitely someone looking to buy them, though you won't get much money.
Usually listed in the top three strangest and ugliest clubs are the Cleveland VAS irons. Sure they look terrible on approach, but there are some who claim that their Cleveland VAS irons helped them play the best games they've ever played. Could it be peer pressure that forces a golfer to replace these in his or her bag? Fans rave about the laser straight ball flight with a ton of bite that these clubs deliver.
Woods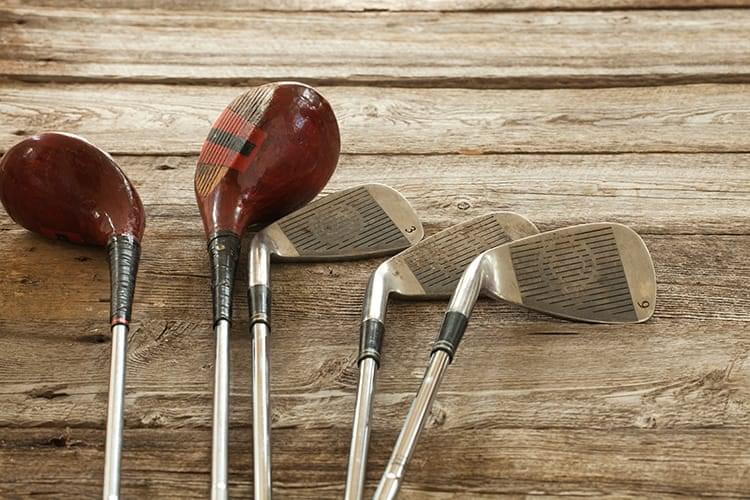 Could you take your golf bag into the past and blow away your typical 18th or 19th century competition? Maybe, maybe not. Conditions weren't the same way back then, and the first clubs were crafted to deal with the rather unkempt nature of your average ancient golf course. During that era, woods were the king clubs of the game, frequently carved and assembled by the players themselves from beech, fruit wood, ash, or thorn wood for the heads, and hickory for the shaft. Throughout the 1800s, a wood head was long—five or six inches—and greatly resembled the head of a walking stick.
Back then, it was mostly woods that populated the golf bags of the time. You'd have a "play club" that you used from the tee-box, and three "spoons" for the fairway. One wood was your putter, or "putting cleek." Up until the late 1800s, irons were to get you out of rough spots, and you probably only had one (and it was made of bronze or cast iron), and you had to be gentle so that you didn't split the feather-stuffed golf ball in half before the rubbery gutta-percha ball was invented.
Putters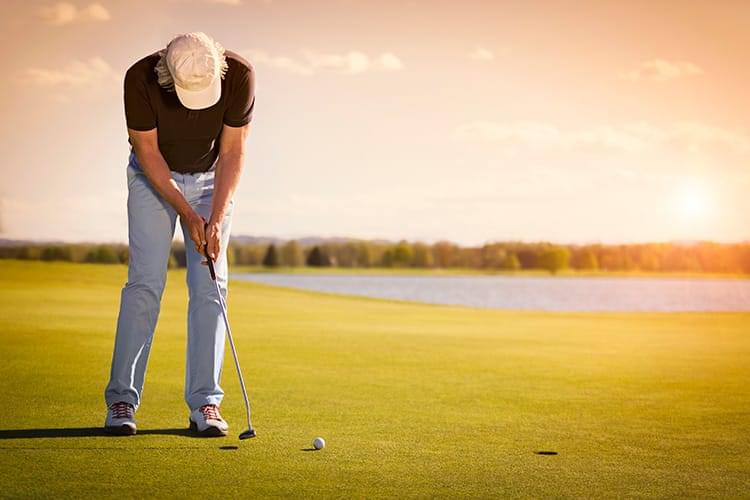 Putters are probably the most tinkered-with clubs in history. For that reason, there are dozens of incredibly interesting—and sometimes downright odd-looking—varieties of putters designed to send your ball short distances into the cup.
Perhaps one of the most out-there putter designs is the Chase Glen putter, an alien-looking carved block of anodized aluminum with a rounded front edge and a counter-balance ball weight at the back. The manufacturer states on their website that you can forget any weird angles you've taught yourself because the rounded front edge strikes the ball equally well from any angle.
Another futuristic high-tech-looking putter is the Fussell XciTour, perhaps inspired by the 2-ball design that sank a 90-foot putt on national television. Or perhaps you will find putting success with the Japanese Penta Putter, a pentagon-shaped head made of cypress and based on the golden ratio.
For a great rundown of some of the strangest putters you've ever seen, visit mygolfspy.com's list of 23 such oddities with enlightening images.
Golf Balls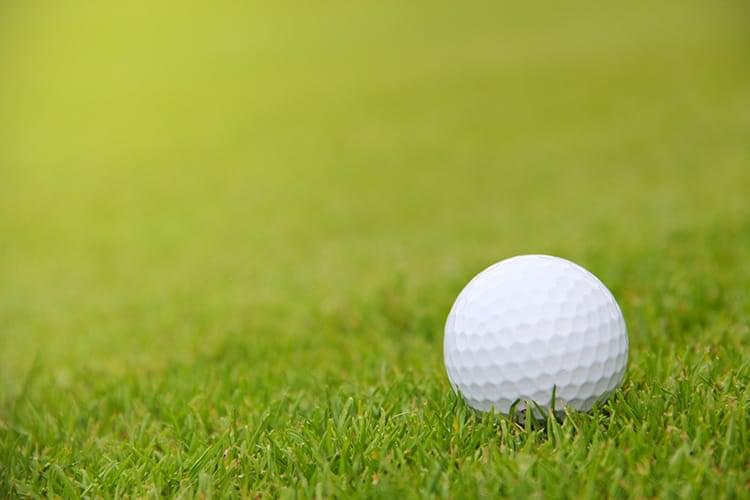 The original golf balls were made of wood, followed quickly by leather sacks tightly stuffed with goose feathers, called featheries. In 1848, cheaper gutta-percha balls made with rubbery tree sap allowed players to knock the balls around a bit without splitting them quite so easily. These days, golf balls are generally made with a rubber or liquid core surrounded by strategically dimpled resin.
The vast majority of golf balls are white, but there are plenty of colored balls that add a pop of color to the green. Collectible balls include the Ping Eye 2 balls, made by the Karsten Manufacturing Company starting in the mid-1980s. Karsten later stopped production of all golf balls to focus on their innovative club designs, but because Karsten made two-colored balls in combinations that other companies didn't make, the balls have become collectible. While a common yellow/orange combination isn't worth much, the treasured metallic + another color combo can run over $1000 per ball.
Head Covers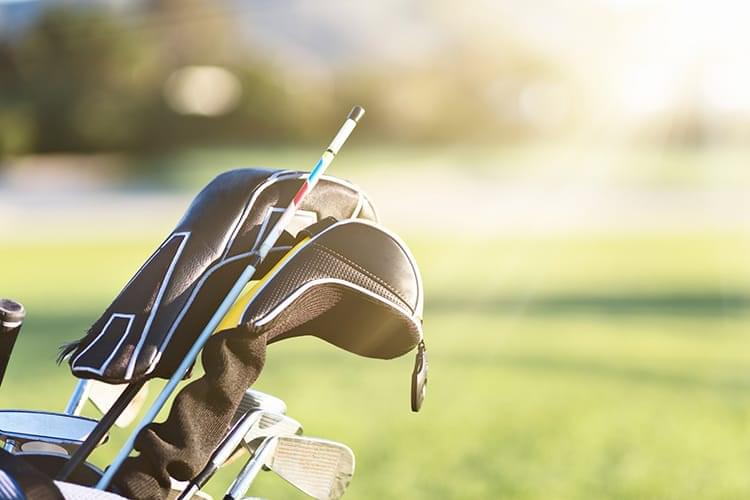 Even if you're shy about mixing it up with your clothing or clubs, you can get a laugh with head covers. After all, they're just there to protect your clubs from weather and damage. They're easily replaced, and they can bring a smile to your face even when you're at your most stressed. Here's your big chance to throw off the shackles of boring convention and get in touch with your hidden but kooky inner self.
Traditionally-shaped head covers come in a vast array of colors and patterns. For the more daring, choose head character covers, from the iconic sock monkey to stuffed mock-ups of your favorite golf celebrities. You can find animals, cartoon characters, or television characters as head covers. Even vintage designs make a statement. Looking for ideas? PGAToursSuperstore.com is a good place to start.
Why Your Golf Equipment Could Use a Crazy Addition
While there are terribly serious things happening in this world, golf shouldn't be one of them. It's a game. It's there to help you relax a bit, let yourself enjoy nature and the company of friends, to challenge yourself, and to provide an outlet for your competitive nature. Adding one or two crazy things to your repertoire will remind you to lighten up what is a very traditional sport. You can still be a purist even when you're having a good laugh. Encourage your friends to do the same.
We hope this definitive guide will spark some ideas about ways you can show your fun-loving personality or drum up the courage to try a new club. And, as always, happy golfing!
What's in Your Golf Bag?
We'd love to hear about some of the more outlandish equipment and clothing you might have in your bag. Does it work for you? Is it just for laughs? Drop us a line or two at info@shipsticks.com, and we might just feature your bag in a future blog post.