Golfing has gained a strong following in the United States, boasting over 15,000 courses throughout the countryside and hosting some of the world's premier golf destinations like Myrtle Beach, Pebble Beach, and Orlando. But golf in the US can't compare to playing 18 holes in the same country that gifted us the game over six hundred years ago – Scotland.
A golf vacation to Scotland is a dream come true for many golfers, with some of the best courses and tournaments in the world happening within its boundaries. To make your experience even better, consider shipping your golf clubs to Scotland ahead of time. This way,  you have little else to focus on except perfecting your swing.
There are thousands of golf destinations around the world, but Scotland's golf scene offers plenty of scenery and challenges that will thrill even the most well-traveled golfers.
Fairmont St. Andrews
Voted #18 by Conde Nast Traveler in "The World's Top Golf Resorts" and #22 in Golf Digest's " The World's Best Golf Hotels," Fairmont St. Andrews offers two prestigious courses that have attracted a worldwide fan base.
The Torrance Course embodies the classic Scottish links style, along with revetted bunkers and sweeping greens that are popular in Scotland's golf scene.
The Kittocks Course is among the most scenic golf courses in Scotland. Situated along the Fife coastline, golfers can enjoy dramatic waterfront views and beautiful Scottish landscape.
Together, the two courses have received numerous accolades from top golf and travel publications, making it one of the most preferred golf destinations in Scotland.
In addition, Fairmont St. Andrews can help you book additional rounds at some of the area's best golf courses, including the Old Course. Just a ten-minute drive from the resort, this course is the oldest in the world, where St. Andrews himself first played golf over 600 years ago, yet it remains challenging and exhilarating to golf professionals and amateur players.
Turnberry Resort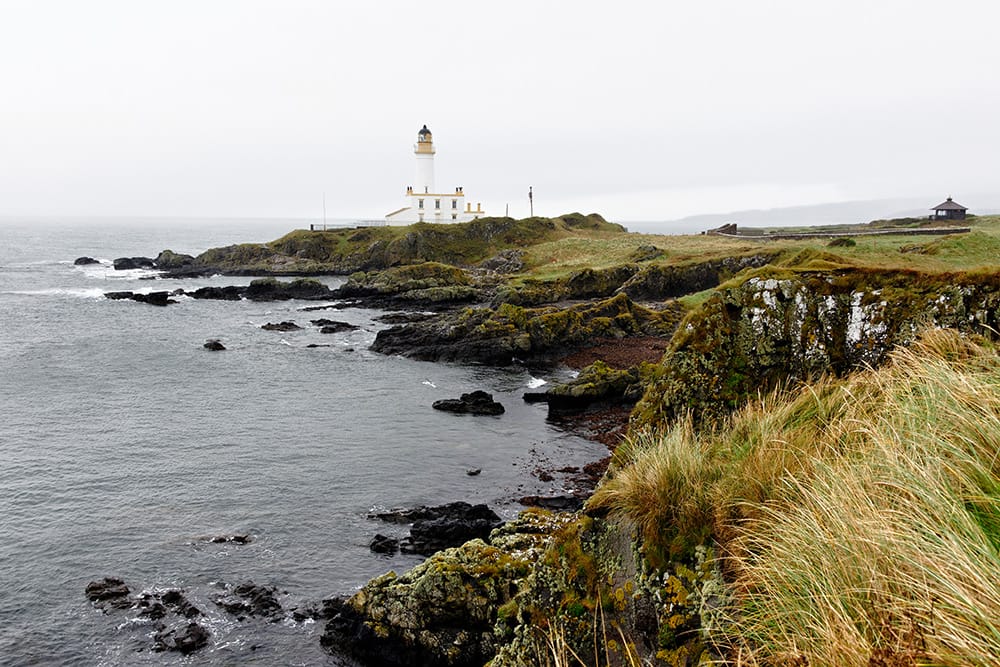 Scotland is home to an abundance of golf courses steeped in rich Scottish culture and history, and Turnberry Resort is no exception. With serene seaside views and natural scenic beauty, this is the go-to destination for golfers who want to escape with nothing standing in the way.
Turnberry is the home of the renowned Ailsa course, having hosted four Open Championships and offering one of golf's greatest experiences. Having opened in 1901, the course has undergone reconstruction during both World Wars and most recently in 2014. The Ailsa emerged from extensive renovations in 2016, breathing new life in one of Scotland's most iconic and beloved courses.
June 28th, 2017 heralded a new era for the historic Turnberry Resort with the grand opening of King Robert the Bruce, the resort's newest 18-hole golf course. Named after the King of Scotland, who fought to claim Scotland's freedom as an independent country, the remnants of his birthplace can be seen from several holes of the course. The course's prime coastal location, combined with its landscape of distinctive bunkers, wetlands, and rolling fairways, make this course as delightful as it is relaxing.
Gleneagles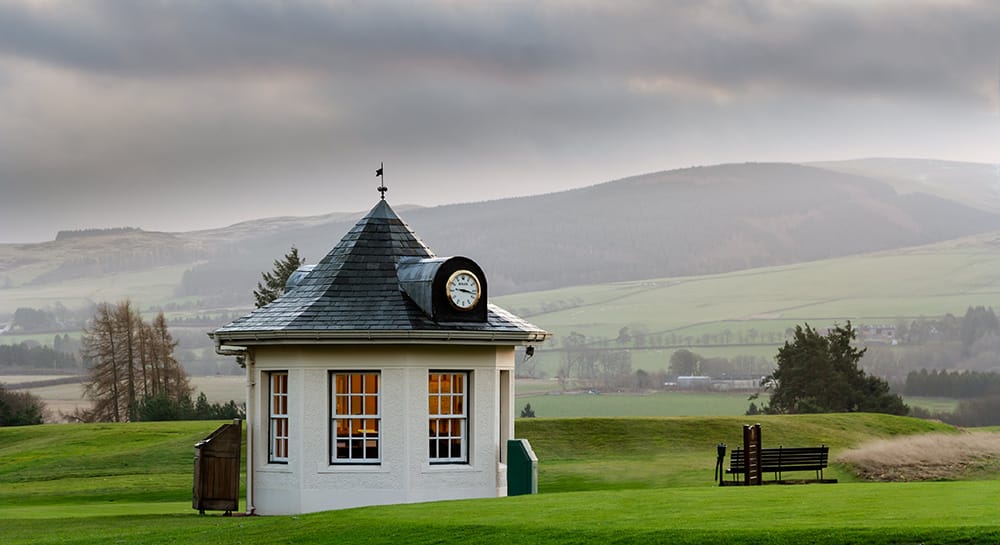 Three (and a half) stunning courses come together in one resort to deliver a golfing experience that is talked about worldwide. Inspired by golf legends James Braid and Jack Nicklaus, golfers of varying skill levels will find each course full of challenges, surprises, and natural splendor.
The King's Course has been hailed as a golf course masterpiece, presenting challenges to amateur and pro golfers alike. Opened nearly a century ago in 1919, this course makes even seasoned golfers second guess their club choice and put their shot-making skills to the ultimate test.
Just a short distance from her king, the Queen's Course presents a quiet, secluded, scenic haven surrounding each of its 18 holes. Top golfers and A-list celebrities have been known to frequent the grounds, including Greg Norman, Tom Watson, Sean Connery, and Bing Crosby, to name a few.
Not to be outshined by its royal predecessors, the PGA Centenary Course is a challenging, awe-inspiring 18-hole course designed by the Golden Bear himself, Jack Nicklaus. Home to the Ryder Cup host in 2014 and host of the Solheim Cup in 2019, this course gives you some of the best views you'll find in Scotland.
If you're limited on time or simply want to enjoy all that Gleneagles has to offer, play a round on the PGA National Academy, a 9-hole spread takes half the time but makes up for in enjoyment. This Par 3 course is ideal for families and friends of all skill levels who appreciate the game every bit as much as the company.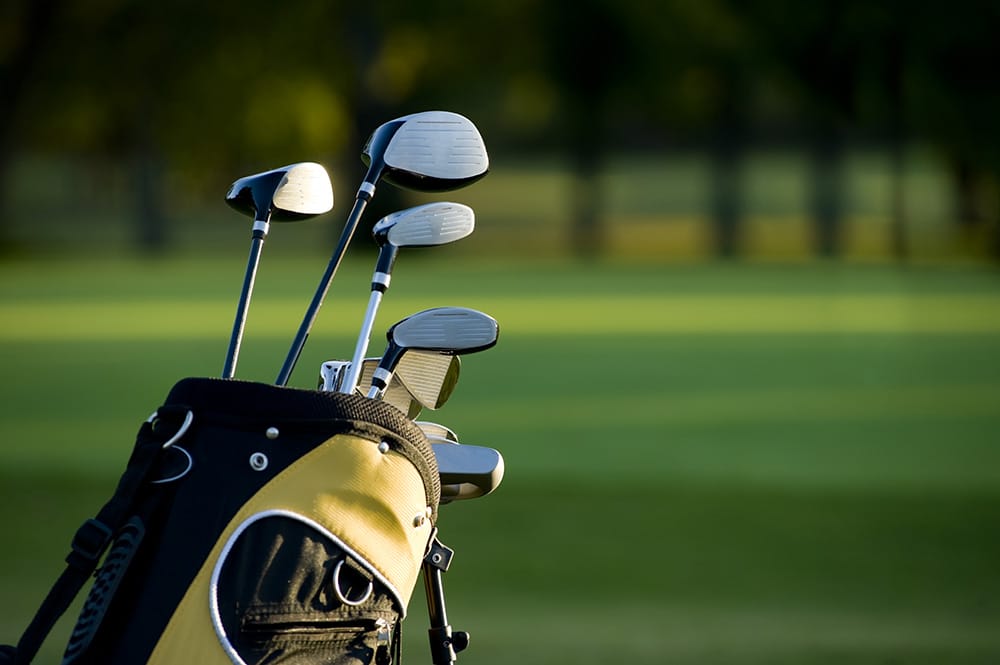 Shipping your golf clubs ahead of time can save you some time and hassle at the airport, not to mention the pricey airline baggage fees. But is shipping your golf clubs to Scotland the best option for you?
Here are a few points you should consider:
Pricing
Think about how much you will be golfing during your trip. If you only plan to play a round or two, it might be more cost efficient to rent your clubs at the golf course rather than bring your own. Compare the prices of average golf club rentals in Scotland with the price to ship your clubs. You might find that shipping your clubs ahead of time will be cheaper than renting a set of clubs, especially if you're planning to play multiple rounds during your trip.
Number of golf courses you're traveling to
Scotland is larger than you might think, especially when you consider its many islands.  You won't find a shortage of high-quality golf courses throughout the country, some of which might be hours apart from each other.
For example, a trip from Edinburgh airport to the city of Machrihanish is over eight hours away by train, while traveling to other golf courses may require you to take a short flight.
Shipping your clubs saves you the trouble of crisscrossing the country with your golf bag strapped to your shoulder. If you know which golf courses in Scotland you plan to play, you can make a more informed decision as to whether or not you should ship your golf clubs to Scotland or carry them yourself.
How much other luggage you bring
If you are bringing other luggage, shipping your golf clubs to Scotland can help lighten the load. Keep in mind that you will have to pay airline baggage fees on your clubs, and if you have multiple flights once you arrive in Scotland, those feeds can add up quickly.
Your personal attachment to your golf clubs
While renting golf clubs could provide a viable cost-effective option, many golfers feel more confident using their own clubs that they're already familiar with. Whether you have a custom set of clubs or that one favorite stick you just can't golf without, you aren't likely to find a duplicate available for rent in the pro shop.
How to ship your golf bag directly to Scotland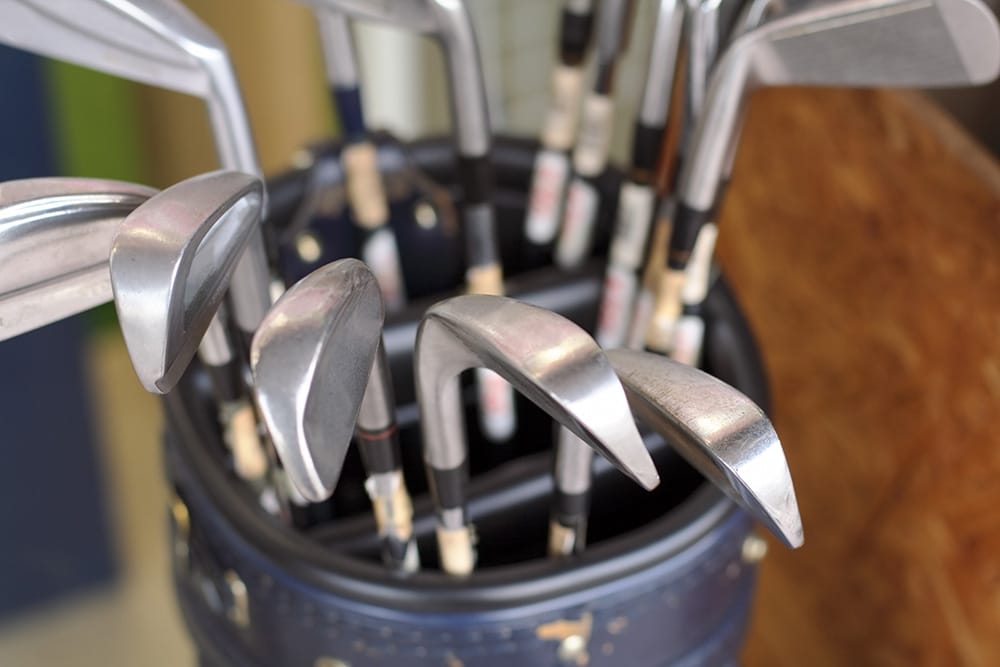 If you are hesitant about the idea of shipping golf clubs to Scotland (or anywhere else for that matter), don't be. Shipping your clubs ahead of time is a growing trend because the process has been honed and perfected by golfers like you. Shipping golf clubs to Scotland is safer and easier than you might think.
Shipping golf clubs to Scotland is safer and easier than you might think. Follow these three steps to get the most from your shipping experience:
#1 – Find a few golf club shipping services online.
When it comes to shipping clubs to Scotland and other golf destinations, you aren't limited to big-name logistics providers. There are shipping services, such as Ship Sticks, that cater to the needs of golfers.
As one of the few shipping providers dedicated solely to shipping golf bags, Ship Sticks is the golf bag shipping expert. In fact, Ship Sticks was founded by golfers who recognized a need for a better golf club shipping alternative than what was already available. Using a service that specializes in shipping golf clubs means working with professionals who understand golfers' needs like only a golfer can.
#2 – Check the reputations by reading online reviews and testimonials.
Once you find a few viable shipping options, see what others have shared about their personal golf club shipping experience.  You can read real user reviews on sites like Google, Facebook, or Trip Advisor and get a feel for what others liked or disliked about each service. (Hint: Ship Sticks has over 4,000 positive reviews, and they've only been in business since 2011!)
In addition to learning about each service provider's reputation, you might glean some useful information that can help you get the most from your experience.
#3 – Compare what each service offers.
Just because a provider specializes in shipping golf clubs does not mean they offer the same benefits as Ship Sticks. Before you commit to a shipping service, you should consider the following questions:
How long does it take to ship the golf clubs from your location to the golf destination?
Can you track your golf bag shipment?
What is the price to ship golf clubs round trip vs. one way?
Do they pick up your golf bag directly from your home and send it directly to your destination?
What happens if the golf clubs don't make it to your destination before you do?
What kind of guarantee does the service provider offer that the club will arrive safely and undamaged?
Does the provider offer insurance for your golf clubs in case of damages or misplacement?
These are important things to know before you hand over your golf bag to a shipping service. One thing to keep in mind is that a company's confidence in the quality they provide directly reflects in their service offerings. If a company can't guarantee your golf bag's safe and timely arrival, you should probably keep looking.
Get a Quote from Ship Sticks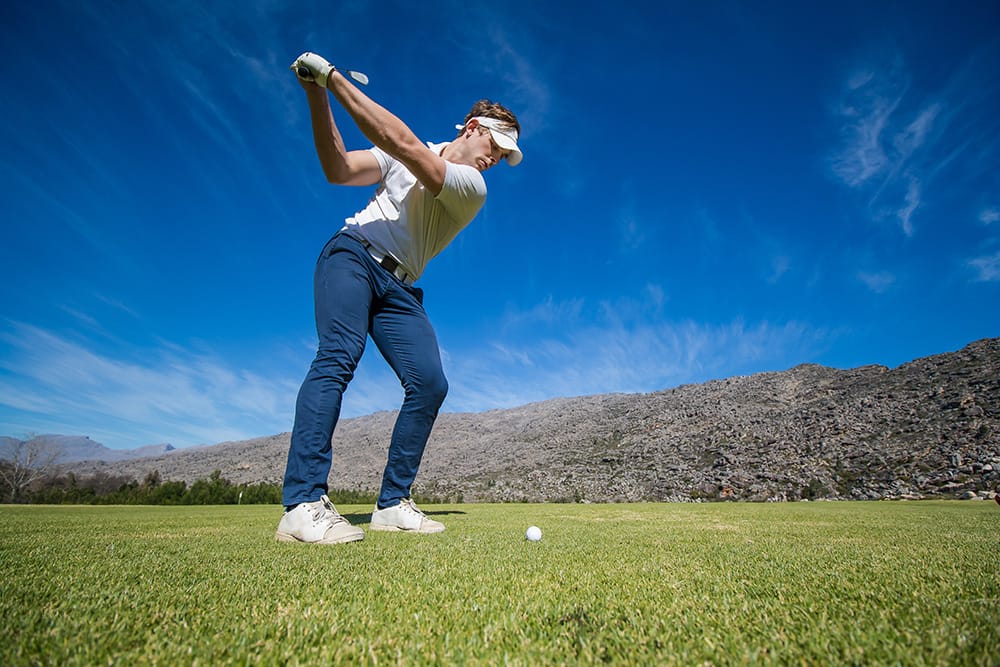 Whether you play to win, relax, connect, or simply enjoy, golf is the game that lets you leave the world behind. To make your experience unforgettable for all the right reasons, consider partnering with Ship Sticks on your next golf trip to Scotland. Ship Sticks does all the heavy lifting so you can enjoy your time without your gear weighing you down.
Contact Ship Sticks for a free quote today, and enjoy a new side of golf you never knew existed.